Our Speaker for our May Meeting was Pamela Rittenhouse, former news anchor, and LifeQuest Organ Recovery Services. She spoke about the benefits of organ donation, and the circumstances that would render a successful donation. She spoke at length of the countless lives that have been saved.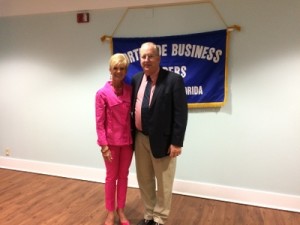 Our Officer of the Quarter for Zone 6 was Officer Erica Hudson.
"Officer Hudson was chosen as the Officer of The Quarter due to her exceptional works and relationships she has formed with most, if not all of the apartment managers and residents in the twenty (20) multi-housing residential locations she serves.  Officer Hudson meets with management and responds to crime issues that occur in the complexes such as auto and home burglaries, shooting and other violent crimes.  She coordinates with other officers/detectives, residents and management personnel to address and resolve these crimes issues.  One example of her effort:  after three shooting in the Monaco Arms Apartment that left three people injured, Officer Hudson worked for months to ensure the safety of the residents.  She held two resident meeting; met multiple times with management; and coordinated investigations with officers and detectives.  Through her efforts several arrest have been made, management evicted those associated with the violence and overall the residents have been made safer.  Officer Hudson approaches her work each day with this tenacity and positive work ethic which enables her to serve the citizens of Zone 6."